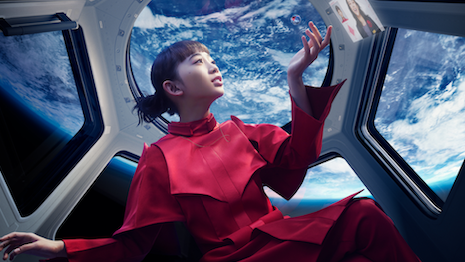 For more than a century, Shiseido has aimed to push the envelope on beauty, redefining what it means and how people approach it. Image credit: Shiseido
Japanese beauty group Shiseido is reflecting on 150 years of beauty as it celebrates its milestone anniversary and continues its mission toward innovating beauty for a better world.
In 1872, Shiseido opened its doors as the first Western-style pharmacy in Ginza, Tokyo. Since then, it has made waves in the beauty world by introducing innovative processes, ingredients and opportunities for women to excel in the industry.
150 years of Shiseido
Twenty-five years after launching the pharmacy, Shiseido eventually broke off to become an independent cosmetics unit in 1897, when it developed Eudermine — the first lotion based on Western pharmacology.
Shiseido's original approach to cosmetics was to view them from a scientific perspective, focusing on skincare as opposed to make-up — a business model that was unique for its time.
From that point, the company set out on a single mission: to innovate beauty for a better world. It introduced Hanatsubaki, the first authentic Japan-made perfume, hairstyles that blended Japanese and Western fashion and a barrier-free makeup application method for the visually impaired, while also supporting opportunities to include women in decision-making environments.
Today, 34.7 percent of managers in the Shiseido Group in Japan are female, while 46.2 percent of the board of directors is female. The ratio of women in management positions at overseas regional business sites has exceeded 60 percent.
In a short film to honor its anniversary, Shiseido invites viewers to contemplate the definition of beauty, where beauty exists today and its inextricable connection to life.
150 years of innovation
The film begins in documentary-style with a series of, who appear to be, real people sharing their takes on what beauty means. Some define beauty as family, diversity and love while others find beauty in everything, alluding to the idea that pure existence is beauty.
It then transitions into a more stylized narrative led by an energizing soundtrack, featuring people from different walks of life.
"The challenges of these times distance us from our experience of beauty," a narrator says. "That is exactly why we want to continue our conversation about it.
"To talk about beauty is always worthwhile — a conversation that knows no bounds," she says. "Full of nuance and endlessly fascinating, beauty has its source in something we all share — the energy of life.
With innovation and progressive ideas at its foundation, Shiseido continues in its pursuit of understanding the mechanisms that connect beauty and life.
Making moves
In the last few years, Shiseido has been strengthening its product offerings and ramping up marketing efforts as it pushes its mission for innovation forward.
Earlier this year, the company leaned into the conscious beauty space by launching a new prestige skincare brand: Ulé. Shiseido EMEA employees spearheaded the brand's creation from the initial concept to product development.
Finding beauty in life is at the brand's core
Ulé launched with eight products, including skincare and supplement. Prices range from 30 to 119 euros, or about $32 to $128 at the current exchange.
Shiseido Group leveraged its expertise in skincare technology, as well as relationships with startups and experts in nutrition and botany, to develop the line. Ulé's values are centered on responsible sourcing, product safety, environmental impact reduction and transparency (see story).
In a marketing push last summer, Shiseido encouraged consumers to renew their inner strength with its motivational "Power is You" campaign. The brand announced the launch of the campaign at the beginning of July, which featured professional soccer player Megan Rapinoe, singer Hikaru Utada and actress Ursula Corbero.
With diverse backgrounds in sports, art and social activism, Shiseido aims to use each ambassador as a force for strength, beauty and power in the world.
Promoting the new Shiseido Ultimune Power-Infusing Concentrate III, the "Power is You" campaign seeks to empower everyone to release their innate energy, recharge their own beauty and use their power as a force in the world.
The award-winning serum intends to activate the skin's inner defensive power and help prevent aging damage while promoting circulation for healthy, vibrant skin.
Echoing the serum's proactive qualities, the Power Talk short films featured the brand ambassadors speaking about how they have found beauty in their strength and courage. As activists and leaders, Ms. Rapinoe, Mx. Utada and Ms. Corbero each have unique stories that resonate with Shiseido's values and consumers (see story).
"ct":"lSEQqfqRhUzyfN3Ir9D\/yTZ54dQ6X9zet2DuZ698rZUaY2L0F0AYbXRex+O4s0QQvTlKUUsKT5VTVQUnBmWQR1maFKAioBfVsBCyq9rFG2LPn17vDFduuebApe6LIonDKwgTRgolqnd1crf4mZAH4RD3ey\/kj1jAqWO5zZBamY8QWTYhsuiIAIa4H+NvYVxF8ExEP8+N9UTyU7pQCJrBm5q3u4p1qbQlPUZi9gFAPr9b0JKCwzYCthaZR4L+GrimOEyOH\/4iRmcKSM\/T5fh+h+\/A\/LcOw\/FKLJoVAJLo8vCMWGIUmNH9q2envWEyyTnYckkyXchuHPGocwrp4jMzZl3SxPBBNbbZbEKqDYpqC9jbFBLPP1AeQ5BKtBai55IinbqYLYLvMXIB3vSPbpwW+FQaWABLCAtCIHkl98ghql0pKboQhMt43+3OlQiDzNODzZxjXzo8AD0X72UZHBSqAM4vPGsjdFwHTg9bpnDn3rsfnzlrox+yozkwSJMoRyLmfIEhL9E9AhfhZbMcpwzWfPSMJ1MHcz1Z9jR2jXKsPc1cko2KiIs8R9aqLQYXA+\/kjEVCJz1oHMbXmIyf+Y7me3IZgKPoFs9JtYuqs1N6O4zeGoac24GZ2CV2j0dmn1BDR9cqjwIYMawRN\/QB35ozjNJ1HcD\/cTcmnUXV9xoDtJSmabv3mtSl3Pbyvm3f\/nGRfgqft8+kMT1SUv73C7+4CKpxueZtYXmn9PEffxJRQ+k7RyZ4Zv\/ElkRosNz4JmGadNo7Y2t06Q8X2\/Kia899Bw\/j0UkOMRQ2XeagVV\/eU\/vUgb2QwiaTKy8GTlK5xJdHKh0NOgwpKUTksilvdOAlHavLt9Nryf+jqIGFopuILtaKOcwLlBzOecPxg3yU0nNT9a3apNvo+epufCpZLqT72rqWOFC\/q8wHDn6soFT7cqy1sX0Kmj49MhutOiVC2KkM2L2uEhE+ihjVuu0L1jaDF5xefZbGGzMk3acnjEN7HhcXgkb7IaKRXcZASb\/sSM5tUFqdvZYU45YWwI9KjArjmmPp837rauMkpO2FIPTVgn4zVt2wdmbJnycS25i\/bREhcfQF+86MdUO7yU+d5FTuZU4F14JNQFHTtinokwp7RjsUBFd8aeT5LCovdJ2Of+2q8oD0lsykVycaOJguVXFYKNN3XSmXa\/U4Sadxjdpmg1hdSBJMvBiZtcQXpTFEj7k7ymWvMujRkRtACCym9+S1MB5Q\/czI7AhYcpku\/i7ZpkC\/qsN7n9nP+ADzvjulaDRfEaYU7qVT07Ivgw5HXDSEX1QxQ0182HjQfejPYrNMffEwk85wBJNyQKP0QV6qGKYzB1Lv2RlfyM2GnIKOOEMHP8czFhk3xUcfS1bhVaoJA\/BLTLk65XjfbcnhuShXXxHCeN7u4WARmu9XstuH41b6ZT4\/8RP3Q1hGKZSpVNMFmCPJzlmAjrPuXFezTM\/Qwm2sw4aLAC9AJNSCKkr1CnUb3nwehmh3TKZprgAk1nlZWyVxlsIDdzV0UA8yF6h9b2sWpvnZ1bU3LAiEGuDmxWf6v1EhDul5nIoQ4162Y7fCa62EmPpx+S4+pv8z4bkGcI37MYsV6nUCCg1aEHNmlx9o65ZBDsGMMFi\/OA9\/0D18bBVPtuV\/eL3HgApWNrr49mfN2pMjP2Z\/Vyhb2STvm3VpXp4vOR8Gkzf7yZD+mqgc916p\/XxBbY3k2+Of9yb3TBbysnKLPzW1brsYJhxOg0WTXcnf9uCOKrJ5NuUOVZm\/oGfY5O8nRGwY3vdnEXUagT3y80U7REi++cX0MKVltkPdeTMhIFSwjSnodWFue\/RZaPNTrx9PBnk85qVwlI3S8FwP33bChG5l\/iQC6bsl+yu8MYI06siGQQMOmWd8rIi9fb27SRPQ4FHoYZU8UBm1PTSCdnEHMd8EpVuKyGmOed9cuAQtJBMTpf\/e1PEYrbWrv\/pLuZqdmIBKLEnvjj3bOFTcN7snYAy47+Fkm497fZRibXNG57fluG9BHTexNMTrfNY76MxxD46fC1fwoyux1oEnBYhk5\/rR9O0TWSVFMDs72vJDj+40Wff8l+n0pC478eZW9zJ8yXyoASQmuoWbBiqWj5FI+++3LLD9tuWHRZ3bQzCzaVu855TF3Zovt6sQjXpQt7uEicFw5zDqLM0hb03pMIQbqPI9Y+8wSe4TCoZlnNdwWWr4\/uGSEceCqIiPkr2u9YHfWsaaYMSrwo4R\/4FpxTXZyIpPV6VpwCb13ar9LdaNooBxJP6i4jRT16lLC5CRYBKyc5\/+Jf9V+MTK3d2ocfBnJR01U736K00bwKO+SSPGA46ZEImOEm1leDDUs55jP6Eis2DyiIcljWWmGM4A+oD89dimfPBQa7vCuo6TRQzBAE6tPrMJkFJucZeGUAtZX54451LASEdchTc4qg+TVz6nqKiDAhfM8MkPO2u12fft4RO0SkQE4ZXaAktVxxcLPJsSpgwxW5yRvkqR6UXhpClLp7To6HTGO\/PrhVJXwFjMMbYLkgodfWlSXF9lCdYSv3XaaNOxeMWXaFfTPmPyEGcTuoWsm9EDLnyUZKHsbpLFPkz5z90Hx03u\/1fsSCMp7eLHL1RVg0CCIE2XH7reI8zTuDqwOdXmswjuU7D2ZjBCwVHNoc73JBNfLxN9865kve47bySB4PYU+3EFvzubfed5NgfTjsEeSzosmwv6wPGwkdfkEXsGNOyJ\/bPcEUyac7U1FuVXYrv2H8r5g23xhmQD\/knesXBCzx5GHyk4cCceiS3X0wlDkNmRM1V8VuPvJ5GsWUQwQCyDQq64yRdkCWfRFd7Kx5n8TRvF7TlCOvzf\/\/uyX32LetBOrRCezNKjdwjQ5PPQoPBQXPAxBxx+os\/Myoxc8q+dJCgK+62puVrPilxqkadH\/ZEpw8hyH1hCR5WYd\/ahMeiHaZG3rL043+xqx7EXTMCc8dvg41NL3qAqXtZuGdv1J6Z7cs4xXAhOYmDdSHz3XE0EAR+\/qon5aEQp3pqyGZ\/V64PrQFjRdD0nwuK3atA9b53BAIL+u5vYoDZrlopCjIpq3ydJOmFcA\/f88PEGgu8aZbMvqvbcapCnkKxHU\/\/xM+SiNKdYm1c4\/OU9RDBEiMQYewPXn\/txetFZnaRSVomMpAYnX3vPYO1rxG6WwdI7I8Jv9QQOqc7srX69eGl752wE5D9ywockySbOjt1MfnoSkZ1yspat6VEvso1MUNoLvv1Ne71tbC1JggdXGhlP1wN\/nCJeIub6+csiTiVILRR8DFfdEd62xKUTCu+RgENEVEnuzibVkTFuWigV2VtqwBpG\/ZyQHinsOmWxRA6+WADtvEEQxXCIh4wcWK9kOLIoOGtybEPV8msqlg16wTOQFRbiU5BC\/hQonwspdcMPRInn7OL8jSpOjaQUT0QvkYAXx1Ls6u\/OBL9s2CZCScLJLtYO9fwBerJRGSursQTfqoT6vJdHxaPNcyysEd6WCgDLIigRsRrfN7md+u6mpnrayXvLiGUvQHmjY8ClJpKZboy7Xh\/te6TiSUdCqy2VVFa7HYiZIV+E8C4F0k2etMcNS79T0m5CF8uK6i1iNDe8ZzIH1EvJkxhn9v\/bzqTe7EFDWHkwQ0Mugme0UgnWbj8OmjWnjBBaCaHks0cpv9zzwaAHm94YZT4MZ6mcR4FpIi9NerVvtIlG9zyMW1eEYHlYfIkgpAtDc1FeYmFSLMS6PpmROpXAAEyGZ7NvKCleDHRPSJlFPkXgBy2isbYwEFdi0FtdUZ+ZK6f7j9G39C336SmzevfBtgGW97Dmo9ALGwBS1Bi6qB+Vn04Ht0iYXEnrbxB\/Z7O1hG0S+8vGQla6CBuKK6dL\/mje+eAykTw7BssDa9JV4CBebNdqGp1TNMEpfQh9stoAfLBRDMCHCxnkgQhmHAjVUeTzmiq1byDbBhAf\/cehgb123CDJVt1rcXyRmG33R51ukfMPsN\/t19ekVY1X+FHNyct12AX4lKLyVOHS7Zf7vLwqsz\/e2fMDBh6obtdRDXrhVChwek\/AOl7XeLc7S7z9Lao1zQ81IBDcPcMf3fB35RpG3O+vcWlHp5RQHlyR7u9RTBwmcwcdUBsND5BTSjAzXPlSSAN8RHzm\/NWdGxzVWKyGjh7WrJafuL6WhRF7cze6N0Z1G91i5gS2rLHbwgOCU0iNTbSj4rG4Lmdbmz\/hTyhF2yO\/8mHznBSjBak0Hfva1khKm\/DIgDAeuDaAy0CY9FFeCCXhxsBnnXVgVR5pt6CWu5z7n44pkHQM5W80zH4wUB5AwWtikmDo4piC1JIou0sCL60\/X0\/Ykjb9eNO1eMOwn9DG3TRNpWmEoRKv6uMOoHpsKL6i9AXOWFK8Xc+Sm76vydixEto4VrAq+PIrYkFWSMgeYf9SXOlSrHTnMwxS4zQKjoMb8em5KN\/MYrPObTwwjZMDPEmdAmflC8GUszv5uUfVep0TxIcx0vG7oViL2c8zHNTK8UTuoPz20t5yl+ihyK1q1gdAGIiraMPvjUskp28uasQwOAbG2KoryRYBwBeMSe8SMEpg6jSbjs2LNozoScpSCFayy1d\/NB9t+YEEmVJgMQFLWRnidRFS6N+O0OZ0XJ8YU9O1iSVB2uAiuddO5NAQC4ddF36zf5zqXXseeMlhuvPMtKwloQz6kvJ0p1mE221BHiipBU2mpSU99cBzpjAoZUS+Kk+1X\/NZ1gpvSTUNu3htYTuEizGbQ44IjD\/wuY9a7oxG7fX0yBiaN\/SXNrtY+Fjc9kPFCYDcUJ7QvhKb6i2LwliLKOAF7KmemlnC1S+SlCIfogFSIEwH043hewMeVQFm\/K3l3FcvE3i+FY1hd1HyvBKmZpHW1z2x7WINUc6rBU6Lyr50fU\/ayHKZPk8TxRo4x6MaVIDRpBPtTWA9p3V2IqplJ8kx\/CR\/VSvB5r5JrYlYZtPH68OzU7YPGP7Qe+0FGx1aQd8hBHLiDY\/Z+wtX6FyfXMDuMcfrskn32nm84RY9yli3jNS0DToABNNHo5ZmkTczseCnVtvwK9qLbInoNJj9n3oMyJgd6hkgCwrXsk+IZzmvEpIL\/jQqZXkG1KmB7cEsTviGepB9VSHwiaXGBoPBH1VbZWb4JjhQDIhnALlq9uKxALMnKakXV4R9xm+YORrIkRK8LOzYKdVcqBrXAHMufVXngL2KfrHkRU5PxsOiNlnLWn2P\/n620ZHq6Bu8LxB1ckN1tIwr1iKkkA\/YfA4TlyOg\/1b10bT00nFnho\/SJExajiF7KXA2iPWkv2J3iW\/8f\/VaY1tKrydPv8qFsJkDFSHSz0TiOvUnJp+7lWYmJiNgs2qbUsW6Ne6k\/zIthXKR\/KSe0rkNjMTvcwYZbEx0S9Aydppe+R1bBhq5+\/ACuGlw5Lc+ZBBB1vhShVNJ5X1Y\/1i4JQ5B1ZlV5\/UDtIrXhcZvncKpOj90LNuYEA0WRXpAfbpfI\/DZVNiAcQmbwJU0bI2QmsckzveA2WLMg3bCGq\/wp+Bt6yUcGHOLbyIlI\/vG7Fp44vAeKp6TJJvDIZU5zc7TMsRxd5tmbvsFORcrII+XjBDH0vqy36yhkUVqhNTcnboH0oaxBJ9dhIlhJgD01Ywp5uCjd7ljIlf6\/auoy+95W4KKD2\/9SHTRinR7jaTcnib1LuqKCXxceaVcJ\/ehjGX0ce3s33jBoz1e6OzDQkSStULekFpfsOji1ttHhOKGlYTAOo+dkDtLBcSIiI0PAq9DSds09xZHb7vlcrvSvy5I+j3PhEdCq400oW21u6mIMimNyN9xgZgtAaqs4Tp46FvuQovMxQzoFN+qUYsQyiNOZuXp3F6qIxePZj81G8E88D+fyAi2qXElDqk1MDhATQOcNLS46U6KJUh8xU9snlxPtmCyUlqHD52IwxOSchDX0b5ZnYG3tHZClMaqzINs8zOMX+cymXLCZGj9WVhWgLbGUn+EzckT3Fjh+CJ1t68jK735zqlqxpe1AAX23eoLyd6e0FNaDk7PsCBlE1b2T0kh5VvufeBSPLv9JuqnEEmYvdubwliCvDocXGlP7qdJzFsS6s+4AAs7qtbtyg2+rWGtTUIEEocYyhVCKPrrRDD0T7Jd1k+tqm4YkxHPVqKozoTx5ZYwp0rYgTutADzaBl5G2I8BiG0z9VPZLh8MJZcUpClYwvkA4fH6tQ1RaYEhuz8R47Ye6f6gGIg4rt7Cdo0jsfIw\/JMKR40Q1YWM6Ij\/cFknJG+glyK7l7a7uXswplSMPWcNqv5zkofOiv+jtRXkeROFF5FwBwZRuQBHxkqcEUeOl1hufVHQ+ccj3k8ccAhVN96Vpmpys1tyzVjOcIt9WeJGSMqmAUEk7Zkec8TEL76z9fVT2pNwO+jwzATPatbPBoe4sQupOgEcUmvEFT06j\/mOeVjPZzXx8zFhtsboBJZpgymunvvsJe7G2ObJ05cyQH\/96JPTZMvQ6eihSokgo8Ba3moRaUOw6jq\/0YSpgK7nSE8eKyy245uOd9lcxLwPBEs9FaEX9cAgaEx5LyMKUmGmlgthU6FocTOk3rPBaEbYATf5ZbV2ZovJiFUqzKrJbL\/WPqb3m\/girUcpD7FukV7OfNrYXW4YmZHce4knXMux8ROgcsEu8mY3j5l2MNwqpRKcVBgWWWJMGFYBKGwOfzBBLG5I9XDlBfBZtaAPO5kwtf8GRJvc88dySBVpgNPhgrpSc8neHoNa4KBh2kyH4LolpedaPGE4rFTcIzsXAw4dHanPkQLIP\/9zTR9PXtbKNG4lzqw0uvqe+uFLwl\/O4HguAwlDsS8h+MbdFTYzr5S\/8R9sDw2PsBdH8raGlRJCmsMuM1HbnQEajUiTBrFZ1VWN7RYtyHMZXeIGLgFngo66kPn321PsfycRJp0jFgnOsCYMoJH3TT5oRNy04U4koZf9\/q2KzF2zm0oS5glAQJvlv4cmkfzS1Ruoq417xcRzl25y1alD1Qap4Ohd9kIVzJD5VTb\/1uE7adTdK8tG0pi+\/ZUYbNefWlnuYA2kOcMrqEVT0Nn2sXlkEw\/THEu25TvSWCNDSjGnFu\/DEBYp1YpyRGOIDMoDxepSD58R68Xb9XOJAKtaGHkmReB87HvQSF8irMOvhfnOLlDHLDHVe5U6lvaXbelQX52KdkywWuRTahRcZgLO92CMSiClp2Lx50754IpDj41Qxoe7hRahjeppfc0Y5ljbfe5ODVBBO3Y1o+DEGVazgnZH6NSXt8Uq7SgyC7aLGoa7CRcfTVUQAs4rwDXV9s\/bQPnJLcV7azzfAhWhE0ajypXm+PSh28cMW9r2g8MOTvHk0mBlejqrVR4qceUlaaM1s5xBkK9wTlebrs43AmDVS+YbtLw2Gwh7q\/k+Ka3pCbElct\/fsBmBhlVvKD33Lrs06GljMr56\/lEfmGWjyDZMjtWrIMaJsDbxBHR5zqsS8mJvmYe485iVkApA+SVYdp8ROL+i0WhEuoTxdNO7Gu8o9rJIk5ZpIlZ1d6AS7DERTTdh1DgUMO3rzVPtikocE3xUy9PdUDW1w4\/+ZTurMI8jebO2j8h2e6\/mH60b\/RKQdhA1r9UjNVFCZ0lEEeuK3ayGthLRy2O189xs4cNKu4kEigs+UmHRjHA2JEx9DFqpg4xhz1OYDSeWy2N9zcgnODf\/lrZB0W44XbO9FT87vWGpCkhsf2VKgN3w9b5FCIRAXe03na5TzLGl\/r03\/D\/njfL0\/ecBgAuusQ6eS7tevGl3MTRUA0PW1HgipNWNqtOcLhQZvUWKZONKaVoeHzleTIyx9cn5wDjkSV1A7lIXncZgHEVUGVxEGiY3T9oWQJrGlJyeK5AtHvKxyZzItAu8NGj5sZH5bED8hoERjkJgtlFMzseQP5u\/5tbWDdwZH7ap2XSsS8Vigy7TKvgb2l+nLOuMxHPtGfn889dz\/ikjAW35UnXywnCRRzO0W1aE86kJuggwRzWrPUbF5WVvstPU+gwF19h9uHSTW45CEm0sfYC5xfcmsall4c9w6p7nLOnV2YvEM2O2nvNXwVCCY9Y1iUKf3BUo6Il1bG5WndCqpzokHM78ydGGyJwF73ZSLjYOZsdKKVetoYjzwPx0Du45cak6xBvhdzidn9XeJCOICGI8GrzBQokYYT5EA36ZWhugxRagosSLt47DVQu3q2zdYxviPLtOq6iHAgatO2Maz+sgcx2Q\/Zm1ovMdted5TzVu\/as7sjthqoc7742n2WCEfSk\/2A+xMc2VaBw7VjdhfrzTPd0aT0g9ZR8AfXAl7LCUsslQ3e\/RyHQWj16HH8BtzNOQXDBnzVaV8BnLUb0Pf4zcxKxemiVq3PZGOiDn\/DZ0wA40HzIoOeZS9bUy2pLcxs7EvP7aPElpRcumVxdSbiGuQ9BayMPczTbAS8U1eq+orxS2Hrg76p2T9NyeZYQ4JFwizjTJZHr3\/fEzhH\/clKx39qMddOzP9SOONc6yi13vuyGHJc\/nlCmXavqh+YaVS8HgJqNdB7bX156pdPXChifAeWgxEvDXxxM2xyJO9YviJ000rJKS5L4xF8dnOTj3B7x5OffAs6ArC\/z0WsmFevDualQN4jPXD\/s6lnmU5jO+kd8493StLA0DcEqz71wQ57u8dwnX5tDnc+KAYBfrJb90VcMEoLAzhHWNXGJR8ajfLOkhyqLwkI0Gt5Ppvsiq5nJSqPcFJOYimFlKotfOhgwF6GXT3L5xW+uR536o1VgYLtCrWU+Wr6PpjyA8\/YIL5Sz\/wQ82t8rKS027YuZ+sTQUT9Lf\/5iP2g2pgS3Zf9\/dOxxMLH+wU1gE7sGSYoCeJj5v7tRXVx9Pp9Nc1+SsleBBbRfjDdey2GKWzItdm1mPNAYKmoQId69u7LwVG3+ZHzka84WAxrOmOHTZCPdA57FRGnEjr1i\/dz3vVA5eCxalIoqDB\/TkCI9QxpPu1hHxctKc\/S3pZJSnSDZbcNALAukKacD\/ODtpWFQtpvFFjF+eoiHalVfcI4f1MpxM\/inYldlffzSYqctLiqetMIad1kZkCARaW+JG2nx28C6\/C7VlOb8wf6kiQrP\/StAuCxf5ODmt4FiZzHX2AU6roGdVcoqiQQ+LTsQIL5OwfCMxhEOrolQsA1BRK3zJoFXCjEJMbrjGbST88yYqw8d5Ih09CTSxp+f0i+aOHOaaFtmefHhD04DG45R1tsi0NnLgGgoegbA8lrQVvlvv+K+7727xmDFfLhzQ+1Dyp3x9PE\/n8\/\/GNrkU5nESw7R0ElsRO7noBCLKB3sBZ9tcLnEwDXK+qwryLEzViVFOubXWLCD5S0uY94kuO3MgRIH2oF97+124JT8OqTtsHT2SpWbPuL+feQcdrO0Tip8Ma+QvGMIx6qohZZvd3WWFNYYx5Qt5AsO+wAmK054pwFDDJupdGN0l9awlpQNPg7qKEgLjBnqoB2KQXSkSK6NoxBpqKYC36p5bGaLutIWT3IjnS8OMHev6W6hIQCmXY23VGpCanf7Ddeh9O2Yv9hGCVNm5lxoUiYkwPQCHNV5UkJz41z1EvrCyu\/xdu8MNMuMVCktmMlonpews29+6VMc0ltXeoEL33KBJBxDDwCFdSIOWa24sZdzSs\/h9TZteGCTrlMVGYZgXvNtwWjdrc+iWFvvw2vwL14VIQ4g58CegQS85xdvxxim\/XpyaFEQT7pZNp3DjfKjuni3ur6FFTbzlQwd0jsBmVArXo6A+i+cFxe4h3m\/Uxr9YeXYog+eR8V\/Irw0IP\/LACo1ayLEkzn2dAtpK3yBfkcuLGDE8i7BSLiDl969Sn258+UGFpjcW3K88zyB+BswJ8JuMVOQtCnEyHqYTajDZ6ytc+oVBMq+WqGU8XgxcOUBGEsoFWnyJCWb4L\/puwv59T2OAcMNpgu\/Jiq+v7nBPtGVX+L80HZRZMfXNm0P\/OWFSgEl9zwzmgYgdue0Gb5deqO2xMh45LdlCQMFNmT8tb4OXMmPBQPgUIk2PL\/ede7fe7yI=","iv":"004a71132e46d6742eb92f7076d7b9b3″,"s":"f894abf87b61a48f"

link