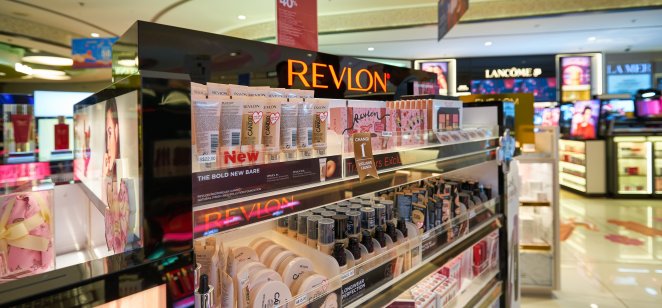 It's been a tough year for investors in beauty firm Revlon (REVR.Q), which filed for Chapter 11 bankruptcy protection earlier this year. The US-based company, whose brands include Elizabeth Arden cosmetics, was forced to make the move due to supply chain disruptions and surging costs.
But what will happen to Revlon shareholders now that executives have been unable to stop shares being delisted from the New York Stock Exchange (NYSE)? Here we look at which institutions and individuals were listed as shareholders of Revlon and what may happen to them over the coming months.
What is Revlon?
Revlon is a major name in the global beauty industry. The New York-based company deals in cosmetics, skin care products, fragrances and personal care. It was established in the early 1930s by brothers, Charles and Joseph Revson, and Charles Lachman, as they introduced a revolutionary nail enamel. 
Subsequent decades saw the company start expanding globally, as well as acquiring deodorant firm Mitchum, and launching its Charlie fragrance. It also recognised the importance of celebrities with a supermodel campaign featuring names such as Cindy Crawford and Claudia Schiffer.
The company's initial public offering (IPO) took place in 1996, with shares priced at $24. The stock was listed on the NYSE under the REV ticker symbol. 
Filing for Chapter 11
Revlon announced on 16 June 2022 that it – and certain subsidiaries – were voluntarily filing for Chapter 11 Reorganisation. In its statement, the company highlighted liquidity constraints brought on by continued global challenges, including "supply chain disruption and rising inflation", as well as obligations to its lenders.
Revlon president and CEO Debra Perelman said the filing would provide a clearer path for the company's future growth:
"Consumer demand for our products remains strong – people love our brands, and we continue to have a healthy market position."
However, Perelman insisted its "challenging capital structure" had limited its ability to navigate macro-economic issues in order to meet this demand.
"By addressing these complex legacy debt constraints, we expect to be able to simplify our capital structure and significantly reduce our debt, enabling us to unlock the full potential of our globally recognized brands."
Shares delisted from New York Stock Exchange
A subsequent announcement on 20 October 2022 revealed the NYSE had decided to delist Revlon's common stock. The statement noted the company's appeal had been rejected. 
"The Company's Class A common stock is expected to trade on the OTC marketplace/pink sheets following the delisting," it added.
According to the US Securities and Exchange Commission (SEC), a company's securities may continue to trade after it has filed for bankruptcy under Chapter 11. Although, it noted that in most cases they're "generally unable to meet the listing standards to continue to trade on Nasdaq or the New York Stock Exchange.
"However, even when a company is delisted from one of these major stock exchanges, their shares may continue to trade on either the OTCBB or the Pink Sheets. There is no federal law that prohibits trading of securities of companies in bankruptcy."
The Revlon ticker is now REVR.Q on the OTCPK market.
Revlon shareholders: Who owned Revlon shares?
Different groups will usually own companies. It's important to know who they are as their presence can impact on how the business operates.
A prime example is when one individual or organisation holds a particularly large weighting of the stock that enables them to exert control over how it runs. According to MarketBeat's list of Revlon shareholders, 52 institutional investors and hedge funds held shares of Revlon over the past two years.
So, who are the Revlon major shareholders? According to SimplyWallSt, a mix of investors owned the company. VC/PE firms held 67.2%, private companies 9.6%, individual insiders 9.3%. The general public held 7.5% and institutions 6.4%.
List top five biggest REV holders
According to SimplyWallSt data, the top 25 shareholders own 92.04% of the company. The list of Revlon's biggest shareholders features some prominent household name investors.
MacAndrews & Forbes
The US-based diversified holding company is wholly owned by investor Ronald Perelman. It has been investing in a wide cross-section of sectors since 1979, including entertainment, gaming, retail, biotech, banking and beauty. Its stated aim is to "build, run, and grow great businesses", with a core strategy that includes focusing on companies with strong market positions and high quality management.
It has 36.47 million shares in Revlon – giving it a 67.19% ownership – with a value of $40.1m, according to the last reported holding date.
RCH Holdings Five Inc
RCH Holdings is listed as a Delaware-based corporation. According to SimplyWallSt, it has a 9.59% ownership of Revlon, with 5.2 million shares that were worth around $5.7m.
Ronald Perelman
The billionaire investor built a fortune with an array of business interests, according to Forbes, which values his worth at $1.9bn. He initially worked alongside his father on deals at Belmont Industries in Philadelphia, before striking out on his own in New York City, according to his biography.
SimplyWallSt had his holding down as 4.54 million shares worth $5m. This makes him the third largest shareholder with an ownership stake of 8.38%.
Mittleman Brothers, LLC
The SEC-registered investment adviser provides discretionary management advice to institutional investors and high net worth individuals. The company applies a private equity approach to public equity investments. It focuses on businesses that can derive high cash-on-cash returns, even with only modest growth assumptions.
It owns 1.84% of Revlon, with 997,830 shares valued at $1.1m. 
Morgan Stanley
The US-based multinational investment management and financial services company. It offers a wide range of investment solutions for all the major asset classes, including real assets, global fixed income, and active fundamental equity.
It has 413,464 shares that worth $454,800. This stake gives it 0.76% ownership in the business.
Morgan Stanley has established itself as a major name in global finance since opening for business on Wall Street in September 1935.
Uncertain future for shareholders
According to Danni Hewson, financial analyst at AJ Bell, it's been a very uncertain time for REV shareholders. 
"Revlon shareholders won't be holding their breath for any return on their investment," she told Capital.com.
Hewson pointed out the cosmetics giant was in a "last ditch bid" to salvage some of the company from the wreckage and pay off some creditors.
"This is a business with an illustrious history but it's one that simply couldn't make itself relevant to today's shopper. Weighed down by crippling debt and dragged under by ever increasing competition it just couldn't cope with the buffeting winds of supply chain disruptions, mounting costs and a consumer more likely to be seduced by celebrity than heritage."
Hewson also believes the current situation was avoidable. "Revlon could have reinvented itself," she said. "It had the potential but it rested on its laurels for too long and now it will need some deep pockets and inspired creativity to prevent it from disappearing altogether."
Although it may be useful to know  who owns the most shares of Revlon, this data shouldn't be used as a substitute for your own research. Always conduct your own due diligence, looking at the latest stock news, a wide range of analyst commentary, technical and fundamental analysis.
Remember, past performance does not guarantee future returns. And never trade with money you cannot afford to lose. 
FAQs
How many Revlon shares are there?

According to Stock Analysis, it had 54.28 million shares outstanding as of 4 November.
How many shareholders does Revlon have?

Revlon has a mix of institutional, insider and individual shareholders. According to Fintel data, the company had 149 institutional owners and shareholders that had filed 13D/G or 13F forms with the Securities Exchange Commission (SEC).
Who owns Revlon company?

According to the most recent holding report from SimplyWallSt, a mix of investors owned the company. VC/PE firms hold 67.2%, private companies 9.6%, private companies 9.6%, individual insiders 9.3%. the general public 7.5% and institutions 6.4%.
Related reading
link