Local entrepreneur to launch women's empowerment conference in downtown Port Huron this April
Life can be a bit overwhelming at times, as we all know, so we look for ways in which we can break the monotony, or maybe add some spice. Sometimes we feel the need for a jolt, or a reminder of all the things that life has to offer. Life is what you make it, they say, so why not make it your best? One local business owner has decided to do just that, by putting together an event that will help women learn and explore new ideas, give insight on how to make it in today's business world, and more.   
Demiree Fultz, owner of Ruboo Boutique, is giving the area a taste of her brand and style with the empowHER Conference, which is set to begin at 11 a.m., on Sunday, April 10, at the City Flats Hotel in Port Huron.
Ruboo Boutique was voted the number one boutique in the state of Michigan in 2021, so it's apparent that when it comes to getting things done and making a name for yourself, Fultz knows exactly what to do. It's this savvy and experience that has led Fultz to want to share her knowledge with other women so that they, too, can live their lives on their own terms.
"We have six speakers coming in to talk to the attendees, myself being one of them. We all have kind of a different view on life and we all do different things, as far as our careers go, having kids, getting married, et cetera," says Fultz.
"I wanted a good mix of demographic and expertise related to the topics being presented, so there will be someone speaking on how to get noticed, and for people to not forget you in a world that is so vastly different for everyone. There will be another speaker named Cecelia Shuler, who is from the area, and her topic is doing whatever you set your mind to do, you can achieve, as she has been involved in many different career fields in her life. So she brings wisdom and experience from that aspect of things."
The event is being sponsored by local businesses, including Crawford Cosmetics and Port Huron Yoga, as well as the Community Foundation of St. Clair County. The event will also feature raffles and giveaways, photo opportunities, light appetizers, a cash bar, and a pop-up shop featuring approximately 22 local and women-owned businesses. They'll be offering their services and products. Special guest DJ Rue, from Detroit, is providing the sounds. 
"I've been to many different events over the years, so I took bits and pieces of some of the things I liked from each of those to create my own thing. I want people to be able to come, relax, enjoy themselves, and be themselves. I don't want it to be super formal and serious, I want it to be fun and energetic, something they won't forget and will look forward to coming back to," says Fultz.
"The goal of the event is to bring women together and make them feel empowered and encouraged, because I feel it's really lacking in today's community. Hopefully this can become an annual event and change the lives of those who attend."
Putting together an event of this size is no easy feat and requires all the pieces to work together for the desired results. One of the speakers chosen by Fultz, the aforementioned Cecelia Shuler, is a local business owner and entrepreneur who has worked with Fultz previously on their venture UNLABEL'd, a women empowerment group that holds monthly meetings to discuss everything from careers and business to raising children and life issues.
[Read "How three Blue Water women are making waves with their new community building group" on The Keel.]
Cecelia Shuler, owner of Sylva & Stone and co-founder of UNLABEL'd. (Photo: Brittany Brennan)"We have been working closely for the last year with UNLABEL'd and she got to see a glimpse of what I do and how I do it, so she reached out to me and asked if I would be a guest speaker for the upcoming event, so of course I said yes, and would love to be a part of it," says Shuler.
Everyone will have their favorite moments and reasons for attending the event. For Shuler, it's the fashion aspect.
"The most exciting part about this event has got to be a bunch of women gathering and putting on their best and cutest outfits. I know that sounds shallow, but I love fashion. I think in today's day and age we are all so isolated with our jobs, our lives, and what we're doing. So many times we're just in sweats. It will be exciting to see all the beautiful ladies that day," says Shuler.
Another local speaker that will be making an appearance is Jessie Wiegand, news and media director at WGRT 102.3FM. Weigand is host of her own show on the station, Limelight with Jessie. Being a member of the women's group UNLABEL'd is how Wiegand met up with Fultz and got invited to be a speaker, as well.
[Read "Putting a face to the voice: Get to know the people of Port Huron radio" on The Keel.]
"It started as just a tiny little group of maybe seven of us and it has grown exponentially over the past year and is now at somewhere between 30 to 45 members," says Wiegand.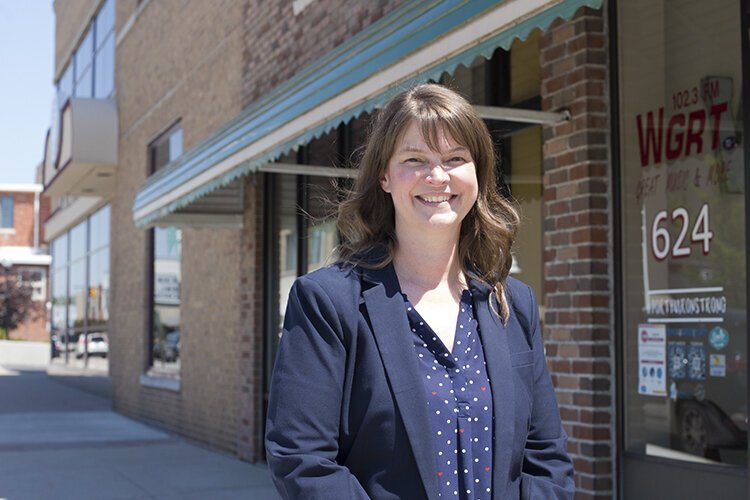 Jessie Wiegand, news and media director at WGRT 102.3FM. (File photo: Liz Fredendall)
The empowHER Conference will feature a diverse panel of women of all ages, races, and professions, ensuring there will be something valuable for everyone there.
"I'm really looking forward to the energy. I enjoy being around a diverse group of ladies, age-wise, with varying beliefs, vocations, and things of that nature. So, I feel this event will be a great time for me to experience that, as well as helping empower the attendees by offering them some advice to help navigate life, such as learning as much as they can wherever they are at," says Wiegand. "Wherever they are, they are probably perfectly positioned to learn what they need to know to help them get to the next stage in life. So, if you want to start a business, go back to school, or whatever it is your heart desires, you can do that regardless of if you feel you are qualified or not. Just learn what you can."
Visit eventbrite online for tickets, registration info, and more.
link